EXTRACTION AND SMOKE REDUCTION TOWERS
The Scrubber towers are engaged in intercepting corrosive acid fume fluids
We are able to create turnkey systems ranging from fume extraction and capture hoods, to the construction of transport and conveyance manifolds of the same, to exhaust chimneys or any abatement towers, also made with plastic materials, and can be in both vertical and horizontal constructive form with static contact bed. COMPLAST 79 exclusively uses plastic materials particularly resistant to chemical and atmospheric aggressions such as PVC, Polypropylene, Polyethylene, Pvdf, Prfv (fiberglass) and other suitable materials.
Fume abatement towers or scrubbers
Complast 79 specializes in the design and manufacture of smoke scrubber towers in plastic materials such as PP (polypropylene), PVC (polyvinyl chloride), PEHD (high density polyethylene) and PVDF (polyvinylidene fluoride).
For sectors and plants that handle liquid products and corrosive acids, the choice to use these materials is mandatory, which derives from their chemical and physical properties which make them suitable for the production of anti-corrosive smoke abatement towers. In particular, polypropylene is resistant to corrosion and high temperatures, PVC has good chemical and mechanical resistance, high density polyethylene is known for its chemical resistance and pressure resistance, while PVDF has good resistance to chemicals and high temperatures.
In addition, the company uses advanced technologies for the production of smoke abatement towers, such as computer modeling to ensure the highest precision and quality of the final product.
Complast 79 has specialized in the production of smoke abatement towers to provide effective solutions for the control of air pollution and for the reduction of emissions of harmful substances into the environment. Our experience and knowledge of materials and production technologies are therefore essential to guarantee the efficacy and safety of our products
Complast 79 produces customized and project:
SMOKE REDUCTION TOWERS
WASHING TOWERS
STRIPPING TOWERS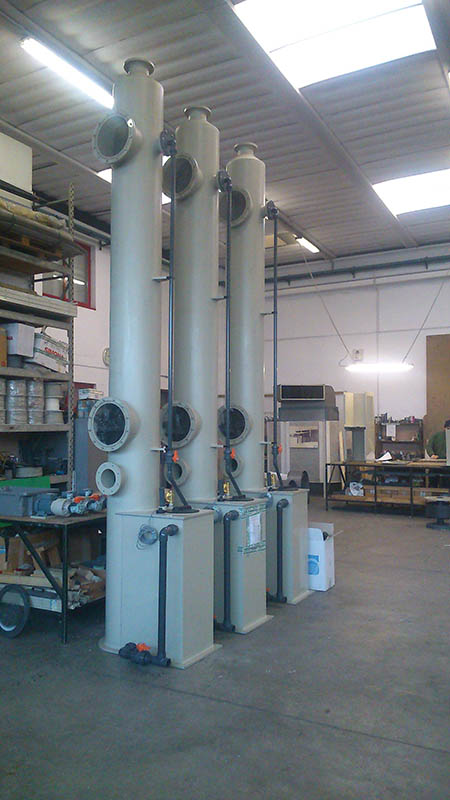 Complast manufactures and installs extraction systems with possible reduction of harmful vapors or fumes normally coming from production processes (fume reduction towers), made using plastic materials resistant to both chemical and atmospheric attacks.
Complast 79 specializes in the design and production of suction systems. These systems are used to remove dust, fumes, vapors and other fine particles from the workspace. The specialization of Complast 79 in the field of suction systems derives from its experience in the sector and from the in-depth knowledge of the materials used and the needs of the customers. The company offers a wide range of customized suction solutions to meet the different needs of companies.
Complast 79 uses advanced technologies to design and build highly efficient vacuum systems. These systems are designed to minimize environmental impact and to ensure maximum energy efficiency.
Furthermore, Complast 79 offers a wide range of after-sales assistance services to guarantee the optimal functioning of the suction systems. These services include scheduled maintenance, repairs and upgrades of existing systems.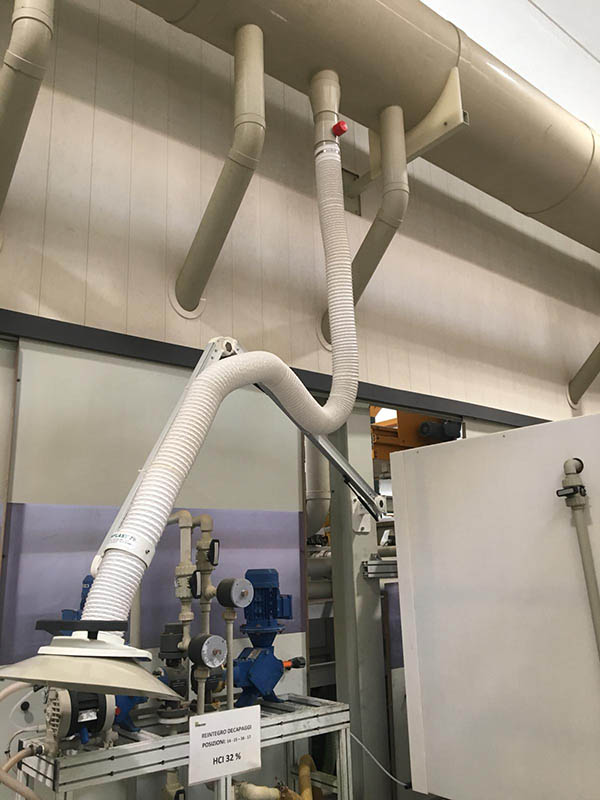 Fume abatement towers, scrubbers and suction systems made by COMPLAST 79